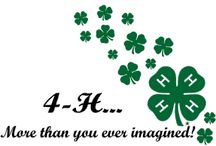 Traditionally local 4-H clubs are offered as in-school meetings where we host 4-H contests (such as speeches, posters and demonstrations), elect officers, and provide educational programming based on state 4-H project areas. Because we are not able to serve every single Lebanon Special School District School or Wilson County School, we have establish 4-H Community Clubs to provide all youth the same 4-H opportunities.
These meetings will be offered in a once a month format, and incorporate our traditional 4-H contests, as well as fun 4-H and Extension related lessons. We will have a "West Side" 4-H Club meeting at Charlie Daniels Park in Mount Juliet, and an "East Side" 4-H Club meeting at the James E. Ward Agricultural Center in Lebanon. Both clubs will run the same exact program each month. The one you join is up to you, but please plan to join one or the other to make record keeping easier on us. Any current 4th-12th grader residing in Wilson County is eligible to join and attend our meetings.
These clubs meet throughout the school year.
There is no fee to join these clubs.
2021-2022 Community Club Meeting Information
COVID-19 Guidelines for all 4-H meetings
For additional information contact Morgan Beaty or Leah Piper​ at 615-444-9584.